Overview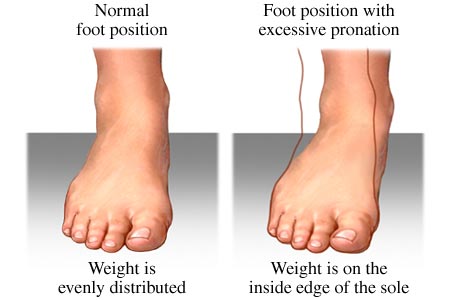 A bunion occurs when the big to begins to deviate towards the second toe. The biggest misconception is that bunions occur from an overgrowth of bone. While this may be true in very few people, the bunion really represents a dislocation or subluxation of the big toe joint and it bulges against the skin. This bony prominence is what is commonly called a bunion. Sometimes the bunion area may become irritated, red and/or callused.
Causes
There is much debate as to which is the major cause, but it is likely that your genetic makeup makes you more prone to a bunion or bunionette and that then wearing ill-fitting footwear causes them to develop. Studies have shown that in cultures where people don?t wear shoes but are habitually barefoot, there are very few cases of foot bunions indicating a strong correlation with shoe wear. They are more common in females, most likely due to choice of footwear.
Symptoms
The dominant symptom of a bunion is a big bulging bump on the inside of the base of the big toe. Other symptoms include swelling, soreness and redness around the big toe joint, a tough callus at the bottom of the big toe and persistent or intermittent pain.
Diagnosis
Bunions are readily apparent, you can see the prominence at the base of the big toe or side of the foot. However, to fully evaluate your condition, the Podiatrist may arrange for x-rays to be taken to determine the degree of the deformity and assess the changes that have occurred. Because bunions are progressive, they don't go away, and will usually get worse over time. But not all cases are alike, some bunions progress more rapidly than others. There is no clear-cut way to predict how fast a bunion will get worse. The severity of the bunion and the symptoms you have will help determine what treatment is recommended for you.
Non Surgical Treatment
Changing your footwear to roomy and comfortable shoes that provide plenty of space for your toes. Padding and taping applied by chiropodist/podiatrist to your foot can reduce stress on the bunion and alleviate your pain. Oral medications such as acetaminophen (Tylenol), ibuprofen (Advil, Motrin) or naproxen (Aleve) may help control the pain of a bunion. Cortisone injections. Over-the-counter arch supports can help distribute pressure evenly when you move your feet, reducing your symptoms and preventing your bunion from getting worse. Prescription foot orthotic devices to help stabilize the forefoot. Manual foot therapy to free up motion in arthritic foot joints.
Surgical Treatment
As mentioned above, with mild cases, the bone is cut close to the big toe joint and shifted over into a correct position. The cut bone is held in placed with one or two surgical screws. With this procedure, just the top of the bone is moved over and the bottom of the bone remains in the same place. This technique is called the Austin bunionectomy and refers to type of bone cut that will be made by the Surgeon. There is, however, a limit on how far one can move the bone over with this technique. Its is generally thought that the cut bone should only be moved over a distance equal to half the width of the bone. In somes the bone may be moved over further.
Prevention
If these exercises cause pain, don't overdo them. Go as far as you can without causing pain that persists. This first exercise should not cause pain, but is great for stimulating blood and lymphatic circulation. Do it as often as you can every day. Only do this exercise after confirming it is OK with your doctor. Lie on your back and lift up your legs above you. Wiggle your toes and feet. Eventually you may be able to rapidly shake your feet for a minute at a time. Use your fingers to pull your big toe into proper alignment. Stretch your big toe and the rest of your toes. Curl them under for 10 seconds, then relax and let them point straight ahead for 10 seconds. Repeat several times. Do this at least once a day, and preferably several times. Flex your toes by pressing them against the floor or a wall until they are bent back. Hold them for 10 seconds, then release. Repeat several times. Grip with your toes. Practice picking up an article of clothing with your toes, dropping it, and then picking it up again. Warm water. Soak your feet for 20 minutes in a bowl of warm water. Try doing the foot exercises while soaking, and also relax and rest your feet. Epsom salts. Add it to your warm foot bath soak.